Mrs. Dorothy Rajendran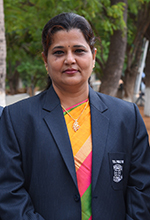 We seek God's blessings in all our endeavors
Alone we are smart, Together we are extra- ordinary!
T.E.A. Matric Hr Sec School is run by The Tirupur Exporters Association Trust since 1995.
We envisage existing strong and bold, maintaining high standard of education accelerating positive approach, enriching knowledge, inculcating discipline, emphasizing moral values, making an overall development in the incumbents and fostering a triangular relationship among the parents, staff and management for constructive and creative progress.
We have fun and frolic, exams and sports to imbibe in the students the sense of patriotism, love for nature and human beings. This is the secret of our success that has made us withstand the test of time in the knit city for a quarter of century bringing home to the society that education is not for lucrative purpose but a Yeoman Service
We have exemplary and dedicated teachers who march ever onwards in a positive, creative and constructive way along with me to bring out the quantum change. Let all of us be a part and parcel of this prestigious institution fulfilling the responsibilities, as we move towards the silver jubilee of our renowned and reputed institution.